The Ghana Grid Company Limited (GRIDCo), has revealed that the prolonged power outages experienced in some parts of the country is due to Gas supply challenges from the offshore fields.
On Saturday, communities in Tema, Accra and Kumasi experienced power outrage in the hours of 6:55 pm.
In a communiqué, GRIDCo explained that about 1,000MW power supply led to loss hence the inability to generate power.
Same Sex Marriage Is Not An Issue To Be Considered At All- Akufo Addo

"GRDICo wishes to inform the general public that at approximately 18:55 PM on Saturday, February 27, 2021 gas supply challenges emanating from the Offshore fields, led to loss of power supply totalling about 1,000MW.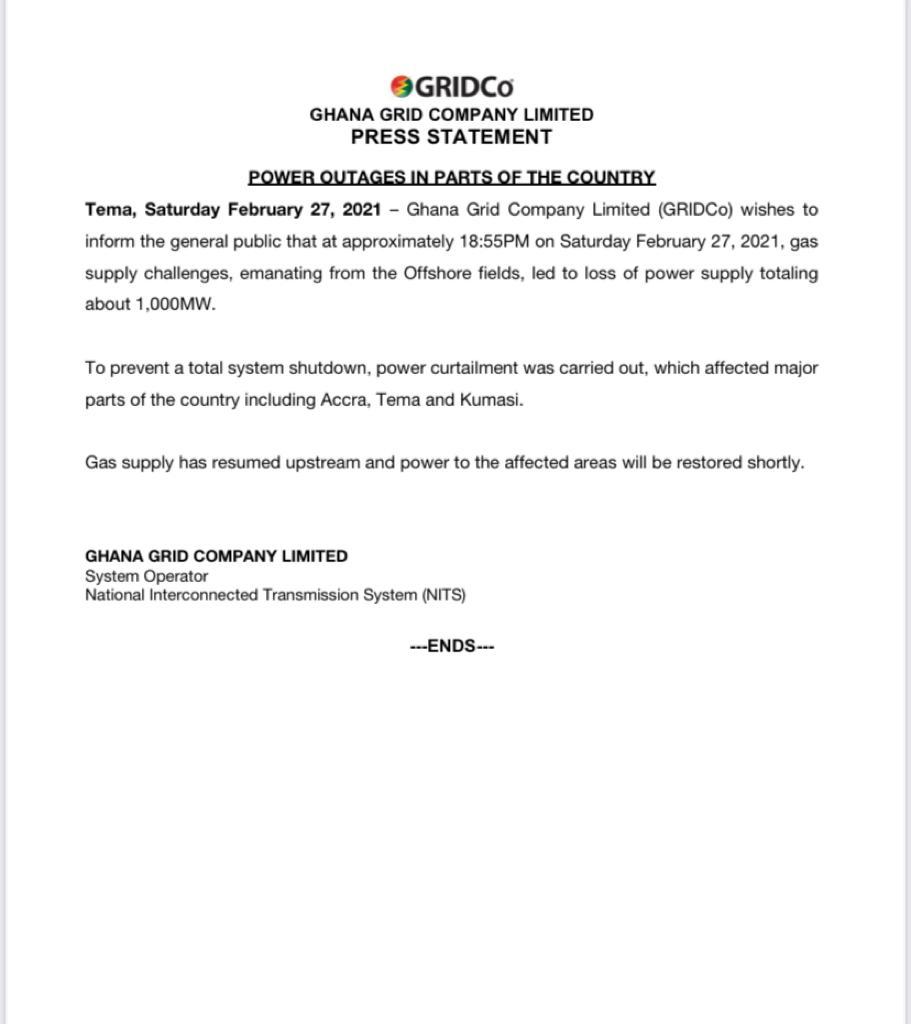 The company further indicated that the black out was a tactics deployed to prevent a total system shutdown.
"To prevent a total system shutdown, power curtailment was carried out which affected major parts of the country including Accra Tema and Kumasi.
Kwadjo Sheldon: Yaa Pono's "AMEN" Is More Than Kweku Flick's Music Career
GRIDCo, however, says the challenges have been resolved, assuring that power to the affected areas will be restored soon.
"Gas Supply has resumed upstream and power to the affected areas will be restored shortly."
WHATSAPP ALERT
Send your stories/articles to info@ghnewspress.com or via WhatsApp on +233264317658/+233239200197 Get daily job alert on WhatsApp by joining our group